Open Secrets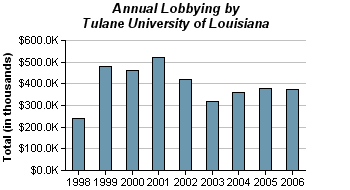 Fiscal Year
From: Center for Responsive Politics [1]
Over the nine-year period of 1998-2006, six lobbying firms reported receiving a total of nearly $3.6 million from Tulane to influence legislation or public opinion on legislative matters [2]. About 25% of that sum was reported by two firms: Johnston & Associates (includes former Senator J. Bennett Johnston, his son Hunter, and John Breaux Jr., the son of former Senator John Breaux) and The Livingston Group (includes former Congressman Robert L. Livingston).
Senator Johnston was instrumental in securing $33 million in federal funds [3] for construction of the Tulane University building that bears his name: The J. Bennett Johnston Health and Environmental Research Building [4]. In naming that building, Tulane violated the spirit, if not the letter of Louisiana Law R.S. 14:316.

Existing law (R.S. 14:316) prohibits naming a public building, bridge, park, fish or game preserve, or wildlife refuge in honor of a living person if it is built, constructed, and maintained in whole or in part with public funds and title to it is held by the state, a subdivision of the state, or an institution supported in whole or in part by the state. Provides as penalty for violations a fine of $100-$200 or, in default of a fine, imprisonment for 30-60 days.
Odinet (HB 1448), Act No. 563, http://www.legis.state.la.us/leg_docs/04RS/CVT5/OUT/0000LUOO.PDF, accessed 07/01/07.
About 12% of Tulane's lobbying budget was reported by the New Orleans law firm of Jones, Walker, et.al., whose senior partner, Robert B. Acomb Jr., was a member (1996-2000) of Tulane's Board of Administrators [5], a member (1989- ) of its President's Council [6], and a chairman (1982-1983) of its Alumni Fund [7]. Other partners also served on Tulane's Board of Administrators (Joseph Merrick Jones, 1947-1963; George Denègre, 1980-1994; David F. Edwards, 2002- ), and many others are distinguished alumni of Tulane's School of Law who have served Tulane in various capacities [8]. Endnotes
The figures from lobbying firms cited on this page are generally smaller than what Tulane reported on its IRS Form 990 income tax returns (available at http://www.guidestar.org). For example, in fiscal 2001, Tulane reported lobbying expenses of $597,502, whereas opensecrets.org reported $520,000. The reason for the nearly $78,000 discrepency is not clear; however, it could reflect lobbying expenses that did not involve lobbying firms.

The Center For Responsive Politics [2] states that its lobbying database is derived from the records of lobbying firms and that discrepencies could reflect the fact that different accounting procedures were used by lobbying firms and their clients, or that filer error occurred when the same methods were used.

The Center for Responsive Politics, opensecrets.org, "Lobbying Spending Database: Tulane University of Louisiana Summary, 2006," http://www.opensecrets.org/lobbyists/..., accessed 06/28/07.

John Pope, "Toxic Study Center to Be Built in N.O.," The Times-Picayune, New Orleans, April 25, 1989 [National, p. A1].

John Pope, "Environmental Research is On; Building Dedicated by Xavier, Tulane," The Times-Picayune, New Orleans, March 31, 1994 [National, p. A1]. See also: Clarence L. Mohr and Joseph E. Gordon, Tulane: The Emergence of a Modern University, 1945-1980, Louisiana State University Press, Baton Rouge, 2001, p. 443.

Beatrice M. Field and Amanda R. Rittenhouse, POTPOURRI, August, 2002, p. 35, http://alumni.tulane.edu/potpourri/, accessed 01/18/05.

Ibid., p. 63.

Ibid., p. 93.

LexisNexis Martindale-Hubbell, "Firm Profile for Jones, Walker, Waechter, Poitevent, Carrère & Denègre, L.L.P." http://www.martindale.com/law_firm/603319-lawyers?PRV=LL2, accessed 07/01/07.
---