The Times-Picayune and Tulane University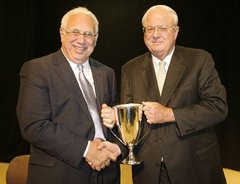 Ashton Phelps, Jr. (right) and Scott Cowen
(
Photo: Chris Granger
, 2010
1
)
On April 28, 2010, Ashton Phelps, Jr. presented Tulane University President Scott Cowen with The Times-Picayune Loving Cup. Awarded annually since 1901, the Loving Cup recognizes local residents who have worked unselfishly for the community without expectation of public acclaim or material reward.1
The 2010 award also symbolizes the close historical association of four generations of the Phelps Family with both the New Orleans newspaper and Tulane University. On October 23, 2015, The Tulane Law Class of 1970's 45th Reunion Party was held at the New Orleans home of Ashton Phelps, Jr.2
During the period of Bernofsky's lawsuits against Tulane University (1995-2001), Ashton Phelps, Jr., a 1970 graduate of Tulane Law School, was publisher of The Times-Picayune, a position he held from 1979 until his retirement in 2012. He had inherited this position from his father, Ashton Phelps, Sr. (1913-1983), who also received his law degree from Tulane Law School (1937), and had been director of the newspaper before becoming president and publisher from 1967 to 1979. Additionally, Ashton Phelps, Sr. was a member of Tulane's Board of Administrators (1955-1972) and served as its Vice Chairman and subsequently as a member of its Emeritus, or Advisory Board. He had earlier served on the university's Board of Visitors.
Ashton Phelps, Jr.'s grandfather, Esmond Phelps (1888-1950), had also been a Tulane Law School graduate (1909) who became a member of Tulane's Board of Administrators (1915-1950), serving as its president (1926-1950). He had been General Counsel for The Times-Picayune before becoming the newspaper's director and controlling party.
The patriarch of the Phelps family was Ashton Phelps (1853-1919). He became a member of the Tulane board of Administrators (1894-1909) shortly after Tulane University of Louisiana was established in 1884, and was publisher of The Times-Picayune newspaper (1914-1918).
Throughout the years, the Phelps family has supported Tulane University financially. The Phelps House dormitory (1954) is named in honor of Esmond Phelps, and the The Phelps Lecture Series, inaugurated in 1992, honors Ashton Phelps, Sr. The lecture series operates under the direction of the Ashton Phelps Chair of Constitutional Law, established in 1983, by the S.I. Newhouse Foundation and The Times-Picayune. The Phelps Lecture is "dedicated to the First Amendment Freedoms of Speech and Press".3
---
References
Bruce Nolan, "Times-Picayune Loving Cup is awarded to Tulane President Scott Cowen," The Times-Picayune, New Orleans, April 28, 2010, http://www.nola.com/living/index.ssf/2010/04/times-picayune_loving_cup_is_a.html, accessed 11/11/2016.

Tulane Alumni Association, "Tulane Law School's Class of 1970's 45th Class Reunion," http://alumni.tulane.edu/s/1586/Alumni/16/interior.aspx?sid=1586&gid=3&pgid=2909, accessed 12/3/2016.

Tulane University Law School Phelps Lecture, "Uninhibited, Robust, and Wide-Open: The Press and Freedom of the Press in the 20th and 21st Centuries," Lee C. Bollinger, Lecturer, http://www.law.tulane.edu/uploadedfiles/Academics/Lectures/phelpspostcard_102008.pdf, accessed 11/11/2016.

"1914: Two newspapers merge to create The Times-Picayune," NOLA.com, October 18, 2011, http://www.nola.com/175years/index.ssf/2011/10/1914_two_newspapers_merge_to_c.html, accessed 11/11/2016.

"Ashton Phelps, 69, Is Dead; New Orleans Executive," The New York Times, OBITUARIES, March 22, 1983, http://www.nytimes.com/1983/03/22/obituaries/ashton-phelps-69-is-dead-new-orleans-news-executive.html, accessed 11/11/2016.

Beatrice M. Field, Mary S. Ingraham, and Amanda R. Rittenhouse, "POTPOURRI: An Assortment of Tulane's People and Places," (August, 1983; Revised August, 2002), 166 pp., http://www2.tulane.edu/alumni/upload/potpourri.pdf, accessed 11/11/2016.

John P. Dyer, "Tulane: The Biography of a University, 1834-1965," Harper & Row, New York and London (1966), 370 pp.

Clarence L. Mohr and Joseph E. Gordon, "Tulane: The Emergence of a Modern University, 1945-1980," Louisiana State University Press (2001), 504 pp.
---