Hanan Yadin and the Shin Bet
Audubon Place after Katrina
GORDON HUTCHINSON & TODD MASSON
Audubon Place is a private enclave off St. Charles Avenue — the most elite real estate in the ctiy of New Orleans. Its houses were built between 1894 and 1927, and the 28 residences represent a large portion of the über-elite of New Orleans.
The residents of Audubon Place voted among themselves in 1900 to keep their avenue and enclave private, and so it remains today, hidden mostly from public view off St. Charles Avenue by ornate iron fencing and an arch of wrought iron over the width of the boulevard, the name spelled out in Victorian script. A security hut sits at the entrance to the neighborhood allowing only the privileged and their guests to visit within.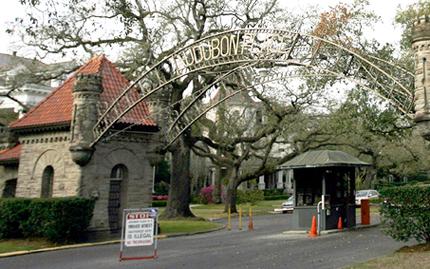 Entrance to Audubon Place off St. Charles Ave., New Orleans




(Photo by: Michael Democker, The Times-Picayune)


While access is limited, the park-like atmosphere of Audubon Place is easily ascertained when looking in from St. Charles Avenue. And it is readily apparent the homes are among the most expensive residential real estate in the city.
Thus when it became clear New Orleans would be shut down for weeks or months after the strike of Hurricane Katrina, the residents of Audubon Place decided they wanted security for their private enclave. No one was going to gain access to their little community, trash their homes and steal their possessions.
Contacts were made between the members of the Audubon Place homeowner representatives and high-end security experts who would act as brokers.
Blackwater USA, a North Carolina company, supplies some of the most highly trained mercenaries to governments and corporations across the globe. It "services" the occupations of Iraq and Afghanistan with independent security contract personnel, and offers airlift services, security services, and crowd control.
Blackwater officials stated the company was in New Orleans to "join the Hurricane Relief Effort." They actually joined the effort in force if published reports by journalists during the time are any indication. Blackwater and other security agents were more than present — they were visible everywhere.
As the threat of forced evictions came true, and the police began confiscating legally owned firearms from residents, the presence of heavily armed private mercenaries patrolling neighborhoods, securing corporate buildings, and openly wielding AR-15 and other weaponry was undeniably evident. And this was in spite of Police Superintendent Eddie Compass' claim that "...only law enforcement will be allowed to have guns."
Interestingly, mere mercenaries, many of whom were freshly returned from hotspots in the Middle East, held no interest for the homeowners of Audubon Place. They had a very specific type of security personnel in mind. They demanded their homes be guarded by Israeli commandos.
Enter security and defensive training operator Hanan Yadin, currently from Houston, Texas. Yadin is a former member of the general security service of Israel known as Shin Bet.
Shin Bet operatives conduct anti-terrorist actions inside Israel. Its personnel are almost always paratroopers trained to survive in hostile environments and conduct high-risk rescues in jungles or deserts. They are schooled to live in close proximity to high-risk zones and hostile populations — training that uniquely suited them for the situation in New Orleans.
Yadin's security training company, ISI, Inc., is based in Houston, and trains law enforcement and SWAT personnel in various "dynamic" scenarios, including bus and airplane rescue operations. When the homeowners of Audubon Place specifically demanded Israeli security personnel, Yadin was contacted and asked to get a team together.
Yadin and his people were flown by private jet from Houston to Baton Rouge, and airlifted from Baton Rouge directly into Audubon Place by a Blackwater helicopter.
Once inside the private compound, the Israelis were given one house to operate from and live in. They set up their base of operations and conducted a house-to-house clearing inspection of every home on the street. Upon completion of that basic first step, the gas connection was turned off to every home, and the Israelis began 24-hour patrols in eight-hour shifts. Since it was a privately owned street, they kept the entrance closed, maintained a guard at the ornate iron gateway, and refused entry to anyone.
They were individually armed with .223-caliber AR-15 rifles and 9-mm Model 19 Glock handguns. They were all outfitted with bulletproof vests and night vision equipment.
"My people were highly trained to operate in hostile environments. That fit well with the demand of the situation in New Orleans," Yadin later said.
Because of their presence and 24-hour patrols, no looting or burglaries occurred in the entire Audubon Place for the 60 days Yadin's people were in charge. Among the residences protected was the mansion at 2 Audubon Place, which is occupied by Tulane University President Scott S. Cowen. The result was probably well worth the reported $25,000 tab later assessed each property owner, considering the assumed worth of the furnishings alone in such homes.
While they occasionally heard gunshots, and once heard what sounded like a gun battle several blocks away, their vigilance resulted in no incidents in Audubon Place.
Police of different agencies stopped frequently and visited with Yadin's personnel guarding the front gates, but no comment was ever made about their armament, nor attempt made to confiscate any of their weapons. Even though police across the city were confiscating what would become thousands of legally owned firearms from individual citizens, they would ignore the ubiquitous rifle-toting mercenaries in the city for two months or more.
Copyright 2007, Gordon Hutchinson & Todd Masson
---
Excerpted from: Gordon Hutchinson & Todd Masson, The Great New Orleans Gun Grab: Descent into Anarchy, Louisiana Pub. Co., Boutte, LA, 2007, Chapter 9, "Street Stories." Reprinted in accordance with the "fair use" provision of Title 17 U.S.C. § 107 for a non-profit educational purpose.
---