"Filing cases against judges who are breaking the law is upholding the law."
-- Attorney Richard I. Fine
---
Crusading Lawyer Finds Himself in a Fine Mess
Attorney faces disbarment and charges of moral turpitude
TROY ANDERSON
January 29, 2008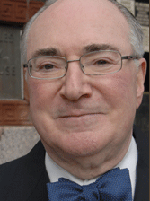 Richard I. Fine
(Photo by John McCoy)
During his four-decade career, taxpayer-advocate attorney Richard I. Fine has filed cases that have saved California taxpayers hundreds of millions of dollars and required state lawmakers to pass budgets on time. Whether he was bringing cases that reduced inflated Los Angeles sewer rates or forcing the county to pay child- and spousal-support payments, Fine has championed ordinary people taking on one of the most powerful government and judicial systems in the nation.
"He's a tireless and brilliant fighter for the little man and people's rights," said John Rizzo, president of the Marina Tenants Association, which retained Fine to protect Marina del Rey residents facing eviction during recent marina redevelopment.
But the 68-year-old Tarzana resident is now facing charges of moral turpitude as California State Bar Court Judge Richard A. Honn recently recommended that Fine be disbarred.
The move comes several years after Fine alleged that Los Angeles Superior Court judges had not disclosed that the county paid them nearly $40,000 in annual cash benefits on top of their state salary packages in cases in which the county was a party.
In State Bar documents, Honn alleges that Fine made those allegations in the cases during a "litigation rampage" to retaliate against judges who had ruled against him and his clients.
It started with a disagreement with court Commissioner Bruce E. Mitchell over attorney's fees in 1999 and grew into a full-fledged battle in which Fine alleged that Mitchell had misappropriated class-settlement funds.
Honn alleged that Fine then accused judges of misconduct and filed motions to disqualify them for alleged bias because of the supplemental payments made by the county.
Mitchell and Superior Court officials declined to comment for this story.
Fine has taken the case to the California Supreme Court, arguing that the recommendation violates the U.S. Constitution and that the State Bar does not have the authority to place him on "inactive" status.
The state's high court has yet to rule.
"The bottom line is that when I filed cases against the Legislature and governor breaking the law, the State Bar didn't care," Fine said.
"But when I filed cases against the judges breaking the law, suddenly the State Bar wanted to disbar me because the judges complained. The irony is that moral turpitude is doing horrible things against society. Filing cases against judges who are breaking the law is upholding the law."
State Bar supervising trial counsel Joseph Carlucci said his office stands by Honn's decision.
"We believe it's well-founded and I think it more than adequately sets forth Mr. Fine's serious and pervasive misconduct," Carlucci said.
"The State Bar does not engage in retaliation. There was an actual contempt action that did result in Mr. Fine spending a few days in jail. That's how serious his misconduct was."
Fine spent three days in Men's Central Jail but the contempt-of-court charge was later voided, according to court records.
Arnold Siegel, director of the Ethical Lawyering Program and a law professor at Loyola Law School, said he is perplexed by the charge of moral turpitude, which usually involves lawyers accused of crimes.
"I don't know how they think this gets to the level of moral turpitude," Siegel said. "It's typically associated with fraud and corruption, those kinds of behaviors.
"It's hard to see the link. Is this behavior contrary to good morals? Is he really being dishonest here, or is he just being a gadfly?"
Fine also alleges in court documents that the past president and a current member of the State Bar Board of Directors will benefit by his disbarment.
Previous bar President Sheldon H. Sloan represented a Marina del Rey developer in lawsuits Fine has filed regarding the legality of leases between the county-owned marina and the developer.
Sloan did not return calls for comment.
Meanwhile, Fine says Los Angeles City Controller Laura Chick — a public member of the State Bar board — also would benefit from his disbarment. Fine alleges that Chick received $5,000 from the lobbyist for the Playa Vista developer the day after issuing a favorable audit of the project.
Fine represents residents and environmentalists in a lawsuit against the city over the enforcement of methane-mitigation systems at Playa Vista.
"This is a frivolous claim without merit," Chick said in a prepared statement. "It is a shame that precious public resources should be spent on something that shouldn't be in court in the first place."
But legal observers say the case against Fine is unusual.
Fine is a prominent Beverly Hills attorney who had no disciplinary problems from the time he was admitted to practice in California in 1973 through 1999.
Even Honn admitted that Fine has a "remarkable academic and professional background," noting that he earned a Ph.D. from the London School of Economics in 1967, and worked at the U.S. Department of Justice in Washington, D.C., prosecuting antitrust cases.
Fine also served as a Los Angeles special counsel investigating former Mayor Sam Yorty and is a distinguished visitor at the Claremont School of Religion. He's even a diplomat to the king of Norway, serving as his consul general in Southern California.
Observers say charges of moral turpitude against attorneys are rare. In 2006, the State Bar handled 611 disciplinary matters and recommended disbarments in 66 cases.
Although State Bar officials couldn't say how many involved moral turpitude, records showed that five attorneys were summarily disbarred.
State Bar spokesman Doug Hull said those cases usually involve an attorney convicted of a crime.
"I was a little bit astonished that a charge would be phrased in terms of moral turpitude," said Richard Cordero, an attorney with Judicial Discipline Reform in New York City.
"It seems to me there is something else that has irked the State Bar."
The action against Fine comes as oral arguments are scheduled in several weeks in the state Court of Appeal in San Diego in a lawsuit filed by Judicial Watch against the county, alleging that the nearly $40,000 in duplicate benefits the county pays judges are a "gift and waste of public funds."
Assistant County Counsel Les Tolnai said the state court funding statutes allow the county to make the extra payments.
But Rizzo said he doesn't buy that argument and believes the judicial system is punishing Fine for challenging the judges.
"I think they are retaliating against him," Rizzo said. "You have this one individual who is fighting and winning against them, and now they've gone after him."
Copyright 2008, Los Angeles Newspaper Group
---
From LA Daily News, Los Angeles, January 29, 2008, http://www.dailynews.com/ci_8113733#, accessed 02/07/08. Reprinted in accordance with the "fair use" provision of Title 17 U.S.C. § 107 for a non-profit educational purpose.
---