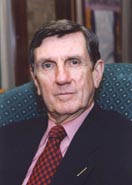 Monroe H. Freedman
(Courtesy: Hofstra University School of Law)
"Frankly, I have had more than enough of judicial opinions that bear no relationship whatsoever to the cases that have been filed and argued before the judges. I am talking about judicial opinions that falsify the facts of the cases that have been argued, judicial opinions that make disingenuous use or omission of material authorities, judicial opinions that cover up these things with no-publication and no-citation rules."
From a Speech to the Seventh Annual Judicial Conference of the United States Court of Appeals for the Federal Circuit (May 24, 1989), reprinted in: 128 F.R.D. 409, 439 (1989). Quoted from Anthony D'Amato, "Self-Regulation of Misconduct Could be Mis-Regulation," Michigan Law Review, Vol. 89: 609 (1990).
---
Monroe H. Freedman is Professor of Law at Hofstra University School of Law and the author or coauthor of numerous articles and seven books, including two acclaimed volumes on ethics:
Lawyers' Ethics in an Adversary System, Bobbs-Merrill, 1975.

Understanding Lawyers' Ethics, Matthew-Bender, 2nd Ed., with Abbe Smith, 2002.
---