Could This Be Malicious Prosecution with Racial Overtones?
In 2001, Judge Joan Benge, then a novice judge at the Civil District Courthouse in Gretna, ruled in favor of a plaintiff who had filed a lawsuit over a 1998 minor car wreck that was caused by another motorist. The plaintiff claimed that the accident resulted in a cracked tooth, and he sued the other driver and State Farm Insurance Co. for $23,323 in damages. Eventually, Judge Benge awarded the plaintiff $2,000 for general damages, $1,383 in special damages, plus interest and court costs for a total of $4,275 [1]. The plaintiff, who complained that the award was too low, appealed the ruling but later withdrew the appeal in 2002 [2].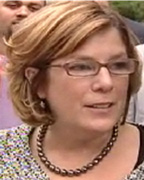 Judge Joan S. Benge
(Courtesy of WWL-TV)
Because the inexperienced judge had questions about the case, she sought the advice of a courthouse colleague with whom she openly discussed her concerns and possible outcomes. The judge she sought for mentoring was Judge Ronald Bodenheimer who, unknown to anyone at the courthouse at the time, was being investigated by the FBI for suspected past criminal activity and whose conversations were secretly being recorded. In addition, the plaintiff in the case was Phil Demma, a Juvenile Court officer, reserve deputy sheriff, and a local political operative who, unknown to Benge, had been working with Bodenheimer in back channels and was also under FBI surveillance. Although Bodenheimer made several attempts to present Demma in a favorable light to Benge, his efforts apparently were not reflected in the final outcome of the case.
An additional factor was the fact that Demma's attorney and cousin, John Venezia, had contributed to Benge's election campaign. Attorneys are known to be the major source of contributions to judicial campaigns, and they also often appear before judges who have benefited from their support. This subject has been widely debated because contributions sometimes influence judicial decisions. Judges have the option of disqualifying themselves but commonly decide to hear such cases. Judge Benge did not recuse herself from the Demma case and proceeded to a ruling. Subsequently, Bodenheimer and Demma pleaded guilty to a variety of unrelated crimes and were fined and sentenced to terms of imprisonment and probation.
The Judiciary Commission is Louisiana Supreme Court's advisory body that reviews allegations of judicial misconduct, and in 2003 it opened a file on Judge Benge after a series of articles about the corruption trial of Bodenheimer and Demma appeared in the Times-Picayune. In them, a vindictive Demma is described as "conspiring to influence Benge to get a favorable ruling" by telling Bodenheimer to let Benge know that he, Demma, would support her in the future if she would rule favorably in his case and award damages larger than the case merited [3].
To Benge's credit, the conspiracy that was hatched between Demma and Bodenheimer failed to take root, and she has always maintained that her 2001 judgment in Demma's lawsuit was ultimately based on a consideration of the law and the facts of the case. The dubious charges against her hinge on the fact that she was the recipient of advice from a colleague who, unknown to her at the time, was improperly attempting to influence her judgment in the case under consideration. Clearly, her verdict in the Demma case did not reflect Bodenheimer's attempt to obtain a windfall for his accomplice. In 2002 and 2008, Judge Benge ran unopposed for reelection and was returned to her seat on the bench for additional six-year terms [4].
Judge Felicia Toney Williams, a Judiciary Commission hearing officer, heard Judge Benge's testimony and concluded that her explanation was "not credible," adding: "What is clear is that the award was not based on Judge Benge's assessment of the evidence in the case." [1] The Chairman of the Judiciary Commission, Judge Edwin Lombard, wrote in an 80-page complaint filed with the state Supreme Court: "Judge Benge failed to maintain and personally observe high standards of conduct and by so doing undermined the integrity and the independence of the judiciary." [5] Judges Williams and Lombard are both black and, as indicated below, race may have factored into the case against Judge Benge.
Michael Bewers, the special council who prosecuted Judge Benge, had recommended that she be suspended for six months without pay [1]. Nevertheless, in July 2009, the Judiciary Commission recommended that Judge Benge be removed from the bench. The Times-Picayune, in a series of strongly worded editorials, has also called for her ouster [6].
Notwithstanding the Times-Picayune's editorials, one of that newspaper's venerable columnists has suggested that cries for Judge Benge's removal might be racially motivated. Writer James Gill pointed out that "four metro-area judges forced out recently have all been black," and he added: "Her case comes up just when the Supreme Court might feel the time has come to counter the perception of racial imbalance in matters of judicial discipline." [7]
If Justice is supposed to be blind, should it not also be colorblind? Perhaps Judge Benge deserves to be reproached for getting mixed up with bad company and exercising poor judgment, but that offense does not rise to a level that justifies removal, regardless of race. The high court is expected to make its final decision in November [8].
Carl Bernofsky
September 21, 2009
Final Outcome
On November 23, 2009, the Louisiana Supreme Court ruled that Judge Benge's removal from the bench was effective immediately despite the support of 163 lawyers who backed her request for a final hearing [9]. Citing Benge for hearing a case from an attorney who contributed to her election campaign exposes the hypocrisy of the high court whose members routinely hear cases brought by attorneys who contribute to their election campaigns.
According to lawyers who attempted to file a friend-of-the-court brief in support of Benge's rehearing, "Many judges who have been charged with far more egregious misconduct have received a far less draconian sanction than the removal imposed on Judge Benge." [10]
The Double Standard
"The legal system ceases to be effective the moment that the public questions whether our judiciary operates impartially and is immune to improper external influences." [11]
Petition for Disbarment, March 15, 2012
Louisiana Attorney Disciplinary Board
To: Louisiana Supreme Court
The above rationale was cited by the Louisiana Attorney Disciplinary Board following arguments by the board's chief counsel, Charles B. Plattsmier, at Tulane University on November 4, 2011, for the permanent disbarment of former 24th Judicial District Court Judge Joan Benge [11].
Benge's offense as a novice judge was to heed the advice of a senior judge to weigh the influence of an attorney's campaign contributions in deciding the outcome of a case. The Louisiana Supreme Court, which has been shown to engage in a similar type of practice, will now pass judgment on the former judge who is serving as a sacrificial lamb for the questionable conduct of many in the legal system.
Having suspended her for several years, the Louisiana Supreme Court reinstated Benge's law license on February 14, 2014, permitting her to resume the practice of law effective immediately [12]. With an eye toward returning to the bench, Benge now plans to petition the high court to reinstate her eligibility to hold judicial office once again [13]. Her desire to return to the bench is a sentiment repeated in a 2019 interview with John Simerman [14].
---
References
Paul Purpura, "Accused judge gets unlikely support; Bodenheimer says he failed to sway Benge," The Times-Picayune, New Orleans, July 27, 2009, National, p. 1.

Manuel Torres, "Fender bender puts Demma on a crash course; Schemer headed to federal prison," The Times-Picayune, New Orleans, May 11, 2003, National, p. 1.

Manuel Torres, "Jeff court scandal deepens; Demma confesses to conspiring to influence judge," The Times-Picayune, New Orleans, April 26, 2003, National, p. 1. See also: Manuel Torres, "Judge defends award as impartial; Recipient to plead guilty in court probe," The Times-Picayune, New Orleans, April 25, 2003, National, p. 1.

Drew Broach, "2001 ruling could cost judge seat on bench; Panel urges removal, citing influence of lawyer, fellow judge," The Times-Picayune, New Orleans, July 18, 2009, National, p. 1.

Paul Purpura, "Judge vows to fight corruption allegations; Benge's removal from bench sought over ruling in 2001," The Times-Picayune, New Orleans, July 21, 2009, National, p. 1.

"Unfit for the bench," [Editorial], The Times-Picayune, New Orleans, July 21, 2009, Metro, p. 6. See also: "With friends like these," [Editorial], The Times-Picayune, New Orleans, July 28, 2009, Metro, p. 4. See also: "Remove Judge Benge," [Editorial], The Times-Picayune, New Orleans, September 15, 2009, Metro, p. 4.

James Gill, "Clearing the bench," The Times-Picayune, New Orleans, September 13, 2009, Metro, p. 7.

Paul Purpura, "Panel seeks dismissal over 2001 verdict; Embattled judge has her day in court," The Times-Picayune, New Orleans, September 11, 2009, National, p. 1.

Jenny Hurwitz, "Jefferson Judge removed from bench; Supreme Court rejects request for hearing," The Times-Picayune, New Orleans, November 24, 2009, National, p. 1.

"Farewell to unfit judge," [Editorial], The Times-Picayune, New Orleans, November 25, 2009, Metro, p. 6.

Paul Purpura, "Ex-judge could lose law license; Ethical conflict got her taken off bench," The Times-Picayune, New Orleans, March 27, 2012, National, p. 2.

Paul Purpura, "Ex-judge Joan Benge allowed by Louisiana Supreme Court to practice law again," NOLA.com | The Times-Picayune, New Orleans, February 14, 2014, http://www.nola.com/crime/index.ssf/2014/02/louisiana_supreme_court_lets_f.html, accessed 02/15/2014.

Personal communication from Benge supporters, March 20, 2014.

John Simerman, "Judicial discipline up close: Joan Benge speaks out about being thrown off the bench," NOLA.com, December 30, 2019, https://www.nola.com/news/courts/article_8b1b6132-29b0-11ea-80d2-6335c5a5275f.html, accessed 12/31'2019.
---