Teacher Shortage Looms in N.O.
11 Schools to Reopen for Next Semester
STEVE RITEA
December 2, 2006
Even as the state-run Recovery School District prepares to open up to 11 more public schools in New Orleans next semester, officials acknowledge they will struggle to staff those buildings with teachers.
With roughly 250 additional students registering each week — and no clue as to how many more will flood their office after Christmas — officials say they're beefing up recruitment efforts even as the 17 state-run schools now open remain 45 teachers short — an 8.3 percent vacancy rate that disrupts the management of their campuses.
That issue, along with an ongoing dispute with FEMA involving $250 million to rebuild 35 school buildings, occupied most of school officials' attention at a Friday meeting of the Recovery School District Advisory Committee, its first since June. The 24-member committee was created to advise the state Department of Education and members of the state Board of Elementary and Secondary Education, which run the Recovery District. Opening all 11 of the schools currently under renovation for next semester would require hiring more than 350 additional teachers. While it's unlikely the Recovery District will need to open all of those campuses, and some might not open until March or April, buying the Recovery District more time to staff up, officials are nonetheless preparing for the worst. Schools that open later may be used to enroll students who enroll mid-semester, which happens much more often in a city where families are still steadily returning to their flood-ravaged hometown.
Even now, the district can barely keep up with attrition. Even though the Recovery District is hiring five to 10 new teachers a week, six quit last week, officials said. A typical week yields only one or two resignations, Superintendent Robin Jarvis said.
Jarvis said discipline problems at several of their schools and a pay system that spreads teachers' checks out over 12 months, rather than the length of a school year, have driven away some staff. Jarvis plans to visit various schools in the weeks ahead to hear more about teachers' gripes.
"We need to truly understand what is not making us the employer of choice," Sen. Ann Duplessis, D-New Orleans, said at the meeting.
Jarvis said they will continue to run ads seeking teachers in and out of state for jobs and her staff will participate in job fairs at various universities. The district also will work with The New Teacher Project, a national teacher training and recruiting organization.
The 53 public schools now open in New Orleans have capacity of 28,578 and a current enrollment of nearly 27,000. Opening 11 additional buildings would provide space for more than 6,000 new students next semester.
But many of the buildings in use today are not intended to be open permanently, cautioned Carrie Stewart, a manager with New York-based Alvarez & Marsal. The state hired Alvarez & Marsal this year to manage the damaged real estate empire it acquired after last year's takeover of most public schools in the city.
Stewart said the system's long-range plan calls for demolishing a number of heavily damaged schools and replacing them with completely new buildings — just how many is the crux of an ongoing debate between the Recovery District and FEMA.
Tulane has signed a partnership agreement with FEMA for mutual cooperation on hurricane and coastal-erosion issues. The relationship will include scholarships to FEMA employees in the form of "tuition discounts," a strategy that has served Tulane well with politicians and judges in Louisiana.

See: John Pope, "Tulane, FEMA team up in tuition deal," The Times-Picayune, New Orleans, December 21, 2006, p. B-1.
The Recovery District and the local district, overseen by the Orleans Parish School Board, has spent more than $136 million so far renovating schools. While the federal government will reimburse them for those costs, FEMA so far has agreed to rebuild only seven school buildings, arguing others can be renovated at less cost, Stewart said.
She said the federal agency should be paying to rebuild 35 buildings, costing FEMA an additional $250 million. The Recovery District and FEMA are at odds, she said, over how best to determine whether a building is more than 50 percent damaged, or "totaled," and thereby entitled to the cost of a complete rebuilding.
"This is a huge issue for us," she said.
Copyright 2006, The Times-Picayune Publishing Corporation
---
From: The Times-Picayune, New Orleans, December 2, 2006, p. B-1. Steve Ritea can be reached at sritea@timespicayune.com. Reprinted in accordance with the "fair use" provision of Title 17 U.S.C. § 107 for a non-profit educational purpose.
---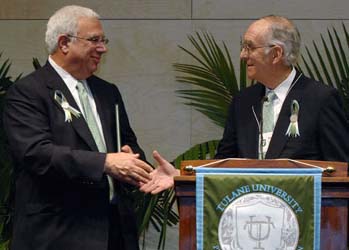 Tulane Board Chairman Phillip Greer congratulates President Scott Cowen on the occasion of the establishment of the Scott S. Cowen Institute for Public Education Initiatives and for his accomplishments toward saving public education in post-Katrina New Orleans
(2 min
,
17 sec)
[6]. (Photo courtesy of Paula Burch-Celentano and Tulane University, Dec. 6, 2006.)
In March, 2007 the Scott S. Cowen Institute for Public Education Initiatives announced that it will launch a study to gather data regarding the state of public schools in Orleans Parish. The study will be funded by the Greater New Orleans Education Foundation [7].
In June, 2007 the American Federation of Teachers revealed that of the
$52 million
that FEMA had allocated for all New Orleans schools,
$16 million
had been used to renovate Alcee Fortier High School building for use by the upper grades of Tulane-affiliated Lusher Charter School [8].
In December, 2007
$1.17 million
in federal funds was earmarked for Tulane "to support the rebuilding of New Orleans Schools" [9].
In 2008, the dearth of locally trained teachers forced Jefferson Parish recruiters to offer jobs to 60
Filipino
teachers to fill positions in its elementary and high schools [5]. Similarly, East Baton Rouge Parish is hiring 100 teachers and Caddo Parish 42 teachers from the Philippines [10].
---
Media courtesy of Tulane University, http://distinction.tulane.edu/movies.htm, accessed 12/28/06. Excerpted in accordance with the "fair use" provision of Title 17 U.S.C. § 107 for a non-profit educational purpose.
---
References
Margo Adler, "Biggest and brightest," Tulane Hullabaloo, Vol. 94, No. 1, August, 22, 2003.

"Tulane University Facts, Stats and Admissions Information," Yahoo! Education [From Peterson's], http://education.yahoo.com/ college/facts/9037.html (remove space), accessed 01/01/07.

Tulane University, Office of the University Registrar, "2006 Profile: Tulane School of Liberal Arts," http://www.tulane.edu/%7Eregistra/figs/ensu/063/prfla063.shtml, accessed 10/26/06.

Cowen remarked: "Tulane can play an integral role in policymaking – not teacher education, but policymaking – as to how urban areas can configure schools and manage them." See: Suzanne Johnson, "Schools of Thought," Tulane University Magazine - News, Summer, 2006, http://www2.tulane.edu/ article_news_details.cfm?ArticleID=6746 (remove space), accessed 11/22/06. Note: Tulane subsequently increased its course offerings in early childhood education and secondary education in a program designed for teacher preparation and certification. See: "Tulane Teacher Certification Program," Tulane University, http://teacher.tulane.edu/programs.html, accessed 07/11/08.

Barri Bronston, "Jefferson recruits batch of Filipino teachers; Dearth of educators forces 8,000-mile trip," The Times-Picayune, New Orleans, May 25, 2008, Metro, p. 1. However, also see: Sarah Carr, "Pool of N.O. teacher hopefuls overflows; City's rep for reform draws young idealists," The Times-Picayune, New Orleans, July 29, 2008, National, p. 1.

Carol J. Schlueter, "Tulane Toasts New Center—With a Twist," Tulane University Magazine - News, December 7, 2006, http://www2.tulane.edu/ article_news_details.cfm?ArticleID=6985 (remove space), accessed 12/07/06. See also: John Pope, "Tulane gains link to public schools; Institute to deliver expertise, resources," The Times-Picayune, New Orleans, December 9, 2006, p. B-1.

The New Wave Staff, "Coalition to Study New Orleans Public Schools," Tulane University Magazine - News, March 16, 2007, http://www2.tulane.edu/ article_news_details.cfm?ArticleID=7195 (remove space), accessed 03/16/07.

American Federation of Teachers, "NO EXPERIENCE NECESSARY: How the New Orleans School Takeover Experiment Devalues Experienced Teachers," Washington, DC, June 2007, ref. 38, p. 34, http://www.aft.org/presscenter/releases/downloads/ NoExperReport_07.pdf (remove space), accessed 06/22/07.

Bruce Alpert, "Huge spending bill nears finish line; N.O. area slated to get cash for medical projects." The Times-Picayune, New Orleans, December 19, 2007, National, p. 4.

Ashley Northington, "Caddo looks outside U.S. to fill teaching posts," The Times, Shreveport, August 13, 2008, Voices, p. 21. See also: Ashley Northington, "Filipinos a welcome addition to classrooms," The Times, Shreveport, September 24, 2008, Voices, p. 19.
---
---
Continuing Crisis in New Orleans' Schools
JORDAN FLAHERTY
Fall, 2006
This week I visited New Orleans' John McDonogh High School, where students organized a press conference to call attention to the conditions at their school. At the school, which is is one of 17 former city schools now under state control, security guards outnumber teachers, school lunches are sometimes served still frozen, and many textbooks and other vital supplies are unavailable.
The state-run school district began hiring teachers just weeks before the school year started, and is still short 21 teachers in its five high schools. "Our school has 39 security guards and three cops on staff, and only 27 teachers," one McDonogh teacher with 250 students on her roll explained. Young, untrained, security guards were involved in three fights with students in two days last week, she added.
"Being at John Mac feels like I'm in prison," one of the John McDonogh students declared to the assembled media and allies. "The bus ride to school feels like a trip from court to jail."
Post-Katrina New Orleans has become a battleground in the national fight over competing visions for the future of urban education. In September of 2005, with the city evacuated and all the schools closed, with no parents or students or teachers around, suddenly anything became possible. Instead of making gradual changes to an existing system, there was no system, and virtually no rules or limits on what could be changed. "The framework has been exploded since the storm," confirms New Orleans-based education reform advocate Aesha Rasheed. "It's almost a blank slate for whatever agenda people want to bring."
Before the storm and displacement, New Orleans had 128 public schools, 4,000 teachers and 60,000 students. The system was widely regarded as in crisis. Three quarters of eighth-graders failed to score at the basic level on state English assessments. In some schools, JROTC, the high school military recruiting program, was a mandatory class, mostly because funding wasn't available for other programs. Ten school superintendents in ten years had been fired or quit. Many parents, especially white parents, had pulled their kids out of the system, almost half of the city's students were enrolled in private schools and parochial schools. Advocates accused the most underfunded schools of functioning as little more than a warehousing program for Black youth.
While the city's private schools saw almost 90% of their students return, public school enrollment is at fewer than 25,000, less than half the previous levels. For those that have returned, they are attending a system completely different from the one they left, what some have referred to as a grand experiment in school reform, with more than 30 out of the 53 schools open this fall transformed into charter schools.
In other words, it has become a system that now consists of a majority of publicly-funded schools freed from many of the rules and oversight that previously applied to public schools in the system.
Transformed System
From the beginning, many saw the post-Katrina landscape as an opportunity to reshape the city. Days after New Orleans was flooded, The Heritage Foundation, a right-wing think tank based in Washington, DC, was already advocating for vouchers and 'market solutions' to the city's education problems.
For advocates, the radical transformation of New Orleans' education system has created a new field of concerns. They worry that the new administrations running the schools are inexperienced and unprepared to take over the New Orleans system. "They say this is an experiment," Tracie Washington, NAACP lawyer and education advocate, explains, speaking about the plans of advocates of charter schools. "Tuskegee was an experiment. We have reason to be suspicious of experiments."
The question of the role of the teachers' union, previously the largest and perhaps strongest in the city, is another contentious issue tied up in the dispute over charters. The School Board voted in fall of 2005 to lay off all but 61 of the 7,000 school system employees, and in June let the teachers' union contract expire with little comment and no fanfare. Those rehired at charter schools return without their union.
For many New Orleanians, the union represents an important Black-led political base advocating for justice within the education system. "Elites of the city may prefer the teachers don't come back because they represent an educated class of Black New Orleans, with steady income, seniority, job protection," Jacques Morial, community advocate and brother of former mayor Marc Morial, said at a recent forum.
According to education activists, students whose parents are able to actively advocate for them have been able to get into better public schools, but for those who have difficulty managing the system of applications and red tape, their options are reduced. "Suffice it to say that the old system worked for people with higher education, with more resources," Mtangulizi Sanyinka project manager of New Orleans' African American Leadership Project tells me. "It wasn't that the system didn't work at all, it didn't work for poor people."
"There is an access barrier," Rasheed confirms. "In the old New Orleans, charters were an island in a sea of city schools. That's no longer the case. There's currently a big group of kids that don't have a school. Some think it was one or two thousand in the spring semester. That's a lot considering you had only 12,000 total enrolled."
Pre-Katrina, thousands of kids every year didn't pre-register for any school, they simply showed up at their neighborhood school on the first day, and the school found them a place. Now, most of those neighborhood schools don't exist, and those that do are no longer obligated to place students who just show up.
Crossed Boundaries
Nationwide, the fight over charter schools has crossed traditional boundaries of left and right, with many progressives supporting charter schools as a potential tool for community control of schools, and an opportunity to try education strategies that would not be possible through the common bureaucracy of public schools. Opponents see charter schools as a back-door strategy used by conservatives to undermine public schools, and to create a two-tiered 'separate but equal' hierarchy within the public school system.
The struggle over what form the education system will take is also fundamental to the larger issue of who will return and when. At forums, at neighborhood meetings, and throughout the city and its Diaspora, parents are anxious. In Houston and Atlanta, displaced parents are asking if their kids will have a school if they return.
In the city, high school students at some of the most underfunded schools have formed an organization, the Fyre Youth Squad, to advocate for change in the schools. The group organized this week's ess conference, and many adult allies have attended the group's twice-weekly meetings at John McDonogh to support the student's organizing efforts.
Students and their allies are fighting to not be left behind, but it's an uphill struggle with more questions than answers. Despite all of the promises from charter school advocates, Tracie Washington, NAACP lawyer and education advocate, is suspicious of their motives. "If you kick me out of my kitchen because you say you can cook better than me," she says, "then your gumbo better taste better than mine."
Copyright 2006, Left Turn Magazine
---
From: Left Turn Magazine, New Orleans, Issue No. 22, Fall, 2006, http://www.leftturn.org/ Articles/Viewer.aspx?id=975&type=M (remove space), accessed 10/13/06. Jordan Flaherty is a union organizer in New Orleans and editor of Left Turn Magazine. He can be reached at neworleans@leftturn.org. Reprinted in accordance with the "fair use" provision of Title 17 U.S.C. § 107 for a non-profit educational purpose.
---
After an examination of New Orleans public schools, The 2008 State of Public Education in New Orleans reported: "About 60 percent of the teachers in Recovery School District Institutions have less than two years of experience..." [1].

Scott Cowen, a member of the state's Public Education Progress Committee [2], attempted to put a positive spin on this finding by commenting: "In these new teachers, we have a tremendous talent pool and a great enthusiasm and youth. The question is, can we get them through the learning curve quickly." [1]

However, when the least experienced teachers are employed in schools that require the most experienced teachers, there is little reason to be optimistic about the outcome. Writes Edmund W. Lewis, editor of The Louisiana Weekly:

"While the sons and grandsons of the powers that be are being educated and raised and groomed to take over the reins as lords and masters of the Crescent City's next generation, their Black counterparts are being miseducated, mislabeled, misunderstood and exploited..." [3] Further:

"The same powers that smiled and quietly applauded when the late Rev. Avery C. Alexander was being dragged up the stairs in City Hall ... are still smiling as countless Black children find themselves slipping deeper and deeper into lives of poverty, illiteracy, disillusionment and servitutde." ... "To exacerbate matters, people who are part of the very system that maims the minds and spirits of our children have now taken over the very educational system they have mismanaged and botched up for years." [3]
References
Darran Simon," Report tracks schools' progress; But spending levels aren't sustainable, The Times-Picayune, New Orleans, April 17, 2008, National, p. 1.

"Education Appointment," Tulane University New Wave, April 8, 2008, http://tulane.edu/news/newwave/newssplash_0408.cfm, accessed 04/09/08. See also: "Scorecard on Public Education Shows Mixed Success," Tulane University New Wave, April 17, 2008, http://tulane.edu/news/newwave/041708_schools.cfm, accessed 04/17/08,

Edmund W. Lewis, "Invisible men," The Louisiana Weekly, New Orleans, April 14, 2008, http://www.louisianaweekly.com/weekly/news/articlegate.pl?20080414e, accessed 04/17/08.